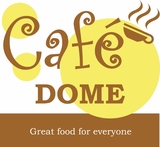 If you haven't ever visited the Café Dome, you really must!
The Café Project is a charitable trust providing support, training and employment opportunities to people with learning disabilities through its community café and Circles Friday Club.
The Café Dome is a Community Café located in Brighton Hill. It's open to the general public and provides delicious food for everyone.
Many of our staff members go to Café Dome and the students who serve us are inspirational and make it such a joy to visit. We'd like to wish them the best of luck in the Gazette Best Café compettion: https://www.basingstokegazette.co.uk/news/19420422.nominate-favourite-basingstoke-café-competition