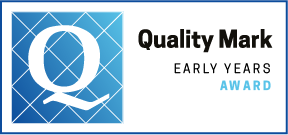 We are delighted that Castle Hill Primary school Early Years, has been awarded a Quality Mark for English and Mathematics. This is in recognition of our improving provision, practice and performance in Year R and lasts for 2 years. The Quality Mark for Early Years promotes and supports the development of young children in their communication, language and early mathematical skills. Such a positive start in their early years gives each child the 'bedrock' of a good education and sets them up with the skills they need for their adult lives.
To achieve the Quality Mark the Year R team were assessed against 10 'elements' by an external accredited assessor. These included reviewing learning needs and planning steps, providing safe, stimulating resources and equipment (indoor and outdoor) and skill levels of our staff.
"Receiving the award was a very proud moment for us as a team. A lot of hard work, commitment and dedication was required to prove ourselves worthy of this award and I underwent a rigorous interview process where we were cross examined to ensure that we have thorough evidence to support each of the 10 elements.
The process was daunting but also a welcomed experience which gave me the opportunity to really consider our practice and the progress we have made over recent years. We are confident with what we do. Our children are happy, engaged and motivated to learn but external validation was welcomed".- Mrs Cook (Head of Year R)